Asian, Asian American, Pacific Islander Employee Resource Group (AAAPI ERG)
Our Mission
The effort to form the AAAPI ERG was initiated by several colleagues who came together to support one another, led by Susan Cheng, senior associate dean for diversity, equity & inclusion and associate professor of family medicine at the School of Medicine, Jesse Szeto, Jocelyn B. de Guzman and Jaime Brown.
"Over the past two years of anti-Asian bias, violence and xenophobia heightened by the COVID-19 pandemic, we have recognized a need to come together and support one another more," says Cheng. "While identifying a need, there is also great joy in forming and building community and solidarity across Georgetown University."
The AAAPI Employee Resource Group (AAAPI ERG) strives to support and sustain a network of professionals (faculty and staff) whose objective is to celebrate, empower and advance AAAPI identifying employees and allies at Georgetown University.
Our mission is to center AAAPI employees at Georgetown University and their distinct experiences, creating an inclusive, equitable, and just workplace environment. We envisionan institution in which AAAPI employee voices are amplified through civic engagement, leadership cultivation, and advocacy.
ᐧ
---
---
Announcements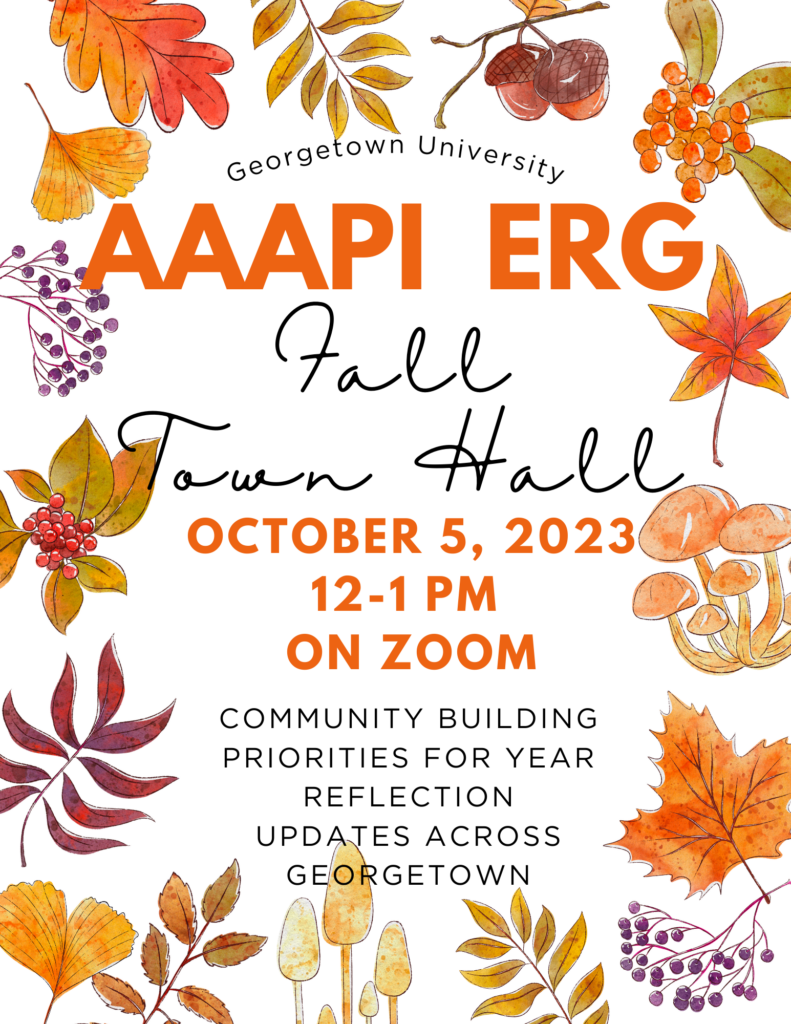 AAAPI ERG Quarterly Town Hall (new window)
October 5, 12pm via Zoom | RSVP form (new window) | Add event to your calendar (new window)
Join Zoom Meeting here. (new window)
We are looking forward to convening with you for our Q1 Fall Town Hall on Thursday, October 5 at 12 pm ET (noon). In addition to recapping our summer together (including an awesome book club), we will be hearing from you on your priorities for the year and engaging in meaningful community building, along with updates across the university. As is becoming our practice, we will begin with a short meditation and dedicate much of our time to group discussion about upcoming programs and priorities; if you're able, please help us get a headcount via the RSVP form linked above.
Reading/Talk featuring National Book Award winning poet Arthur Sze (new window)

Save the Date: AAAPI ERG Quarterly Town Hall
October 5, 12 PM ET 
Recapping Recent ERG Events
AAAPI ERG Book Club: On Earth We're Briefly Gorgeous (Summer 2023)
Many thanks to you who attended any or all of our book club meetings this summer — you showed up to our sessions with enthusiasm and openness, and it really made the experience unpacking this powerful, often difficult, incredibly raw work by Ocean Vuong that much more rewarding. Big shout-out to our ERG volunteer Nikki Dalupang for leading the charge on developing this book club and thoughtfully pushing this initiative forward. Helpful lessons were learned (about making hybrid meetings work well or how difficult it is to distribute books across our campuses) and we're excited to tackle The Covenant of Water by Abraham Varghese as our next book. Stay tuned!
Staff Appreciation Picnic (Sept 6, 2023)
It was so great to see so many of you last Wednesday! And a very warm "welcome to the listserve" to everyone we met and signed up through our form last week.
Upcoming Events (Local/Community) 
Mid-Autumn Moon Festival Community Day (new window)
Sept 30, 10 AM – 4 PM ET | Chinese American Museum, Washington, DC
Chinese American Women in History Conference 2023: "Locating Kinship Across Space and Time" (new window)
Oct 5-7 | Washington DC and virtual
E Ala E Hawaiian Cultural Center's 2023 Holokū Ball (new window)
Nov 4, 5 – 10 PM ET | Westin Crystal City, Arlington, VA
News/Articles of Interest
Science News: Filipino math teacher Emma Rotor helped develop crucial WWII weapons tech (new window)
Georgetown's Prof. Erwin R. Tiongson: "I researched and wrote the story of Emma Unson Rotor, a Philippine math teacher who worked on the proximity fuze—a weapons technology that changed the course of World War II."
America Magazine (The Jesuit Review): Alana Chen died by suicide in 2019. A fellow LGBT Catholic gets to the bottom of her story in a new podcast. (new window)
"When Simon Kent Fung read about the death of Alana Chen, a 24-year-old Colorado woman who died by suicide in 2019, he broke down in the coffee shop where he learned the news. The details of their lives were so similar, he said, that he began to understand elements of his own life with greater clarity after reading about hers. Both Ms. Chen and Mr. Fung had been fervently Catholic as young adults, discerned vocations to religious life and struggled to reconcile their homosexuality with church teaching. […] Mr. Fung eventually moved to Colorado to document Ms. Chen's story, including her devotion to the church and her eventual death. His findings are laid out in a new, limited-series podcast, 'Dear, Alana.' The series chronicles Ms. Chen's involvement in her Boulder, Colo., Catholic community and with therapy that seemed to use some ideas common in conversion therapy."
Reminders
During the semester we aim to send these update emails once every 1-2 weeks, but you can also link up with us on Instagram (new window) to hear (or tell us) about events happening between sends that we haven't gotten to include yet.
Our ERG is at its best when we build infrastructure and support around what our group members are passionate about, so please stay in touch with us with your ideas and feedback, either via email or through our anonymous feedback form (new window).
Articles
The FEED: Georgetown responds to Supreme Court ruling against affirmative action in admissions (new window)
"In a statement expressing deep disappointment with the ruling, Georgetown University President John J. DeGioia emphasized that 'This latest decision by the Court does not change what we know to be true: diversity matters in fulfilling our obligations in preparing future citizens—future stakeholders in our democracy.' He added that while Georgetown will comply with the law, 'we continue to be committed to taking steps to build a better future—ensuring that the full range of voices, histories, and experiences are included in our academic community as we work to fulfill our mission.'"
https://www.washingtonpost.com/world/2023/05/10/tiktok-british-chinese-takeaway-videos/
McDonough School of Business: New Research Explores How Millennials and Gen Z Are Driving a New Definition of Workplace Wellness
"The Young Adults and Workplace Wellness Survey examines attitudes and priorities of 1,032 working-age Gen Z and younger millennials (ages 24-35) as these young adults return to the office. Business for Impacts' AgingWell Hub at Georgetown's McDonough School of Business worked with Edge Research in fielding the survey."
Resources
Contact Information
Susan M. Cheng, Ed.L.D., MPP
Senior Associate Dean, Diversity, Equity & Inclusion
Associate Professor, Department of Family Med Deputy Title IX Coordinator,
School of Medicine
aaapi@georgetown.edu
Memories